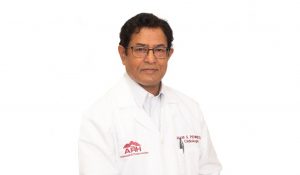 May 28, 2021
ARH Cardiology Associates welcomes Ram G. Penmetsa, MD, invasive cardiologist to their medical staff.
Dr. Penmetsa will be seeing patients at the ARH Cumberland Valley Medical and Surgical Associates clinic located in Middlesboro.
Dr. Penmetsa is board certified in cardiovascular disease. He completed his internal medicine residency at Indiana University Medical Center and a cardiology fellowship at Indiana University Medical Center Krannert Institute of Cardiology in Indianapolis, Ind.
Dr. Penmetsa will provide comprehensive cardiac services including consultations for adult congenital heart disease, cardiac arrhythmia management, cardiac risk assessment, cholesterol management, congestive heart failure management, coronary artery disease management, hypertension management, pacemaker management, vascular disease management as well as these screenings:
Ankle Brachial Index (ABI) testing,
Diagnostic cardiac caths,
Quantitative echocardiography,
EKG,
Holter/event monitor,
Nuclear testing,
Stress testing and
Transesophageal echocardiography (TEE), which is a test that produces detailed pictures of your heart and the arteries that lead to and from the heart using high-frequency sound waves (ultrasound). Unlike a standard echocardiogram, the echo transducer that produces the sound waves for TEE is attached to a thin tube that passes through your mouth, down your throat and into your esophagus. Because the esophagus is so close to the upper chambers of the heart, very clear images of those heart structures and valves can be obtained.
Prior to joining ARH, Dr. Penmetsa had a cardiology practice at Conway Medical Center in Conway, S.C.
"We are excited to welcome Dr. Penmetsa to our medical staff," said Charles Lovell, Barbourville ARH Community CEO. "Here in the Cumberland Valley region, we are pleased to offer high-quality healthcare services by exceptional providers such as Dr. Penmetsa.  His cardiology expertise and compassionate care will be a great benefit to the Bell County community."
Dr. Penmetsa is accepting new patients at the ARH Cumberland Valley Medical and Specialty Associates clinic in Middlesboro. For more information or to schedule an appointment, call 606-248-0737.