The DAISY Award for Extraordinary Nurses recognizes individual nurses throughout the year for their extraordinary, compassionate care. More than 4,000 health care facilities and nursing schools across the United States and in 26 other countries participate every year. The DAISY (Diseases Attacking the Immune System) Award is an international recognition program that honors and celebrates the skillful, compassionate care nurses provide every day.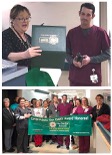 "We received a diverse pool of nominees with strong dedication to their patients and to providing safe and compassionate healthcare," said Vicki Thompson, RN, MS, Community Chief Nursing Officer at Middlesboro ARH. "All 11 honorees as well as three nominated nursing units demonstrate exceptional nursing skill and expertise matched by compassionate care and a commitment to advancing their profession. However, several patients praised John Barnes for his kindness, gentleness and concern for their privacy and safety, stating: We need more nurses like John."
Award recipient John Barnes, licensed practical nurse (LPN) in the Medical and Surgical Unit, has worked 14 years at Middlesboro ARH Hospital, and during the surprise ceremony was humbled by the kind words of so many patients who nominated him for the award.
"I am especially honored to receive this award because it is based on patient nominations. I try very hard to take care of my patients to the best of my ability, and I am happy they are pleased with the care that I provide," said DAISY Award Winner John Barnes, LPN.
Middlesboro ARH Community CEO Michael Slusher shared: "Our Community Hospital is blessed with an exceptional group of skilled and dedicated nurses. We are honoring John with this prestigious DAISY award because he is a dynamic peer leader who goes above and beyond for his patients. Through his actions—patience and compassionate care for his patients and their families, John consistently makes a difference in the lives of his patients which makes John an extraordinary caregiver."
About the DAISY Foundation
The DAISY Foundation was created in 1999 by the family of J. Patrick Barnes who died at age 33 of complications of an auto-immune disease (hence the name, an acronym for Diseases Attacking the Immune System.) Patrick received extraordinary care from his nurses, and his family felt compelled to express their profound gratitude for the compassion and skill nurses bring to patients and families every day. The DAISY Award celebrates nurses in over 4,000 healthcare facilities and schools of nursing around the world. For more information about The DAISY Award and the Foundation's other recognition of nurses, faculty and students, visit www.DAISYfoundation.org.