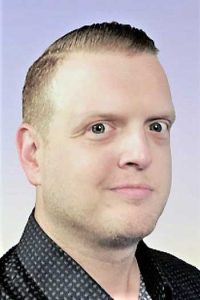 In further efforts to keep its patients and staff safe, Hazard ARH Regional Medical Center is now using the new SwipeSense technology to help slow the spread of COVID-19 by speeding up the contact tracing process within its hospital.
"We are one of only three hospitals in the nation who are currently utilizing this technology for contact tracing, which is immediately started once a patient tests positive for COVID-19," said James J. Hensley, MLS (ASCP), CIC, System Director of Infection Prevention for Appalachian Regional Healthcare. "Through SwipeSense, which is attached to the employees' badge, we can track a number of actions made by staff while they work. This can be everything from proper handwashing to medical equipment they have used to help identify any possible COVID-19 exposures they might have had throughout the day."
SwipeSense leverages sensors embedded into equipment, staff badges and location beacons in hospital rooms connect to an online dashboard. With these sensors in place, if a patient, doctor, nurse or any hospital employee was diagnosed with COVID-19, this technology could pull up a virtual map with dots, representing people, and an administrator could go back in time to determine if anyone was in close proximity. Once determined, the hospital can take steps to isolate and test them for the virus. Even the Centers for Disease Control and Prevention has noted that monitoring technologies are one of the key methods to help ensure scalable, timely and accurate data collection for contact tracing.
According to Hensley, the main goal for using this technology is to protect healthcare workers, patients and our community.
"When a patient is diagnosed with COVID-19 while in the hospital, we immediately begin contact tracing," said Hensley. "Instead of manually reviewing the patient's medical chart which can take many hours to accomplish, we can utilize the SwipeSense technology tool and quickly determine which staff has been in this patient's room and proceed with testing. It really is the best tool for contact tracing."
Hensley explained that data-driven, in-hospital contact tracing is critical to keeping people safe. At Hazard ARH, they attach RFID Asset Tags to mobile equipment such as ventilators. Through the SwipeSense Asset Tracking application, the hospital can virtually map and track equipment throughout the facility.
"This helps us identify equipment that may need assessed, cleaned and even quarantined," explained Hensley. "The facility has location hubs connected all over including common areas which talk to staff badges and asset tags to log data for asset tracking and also for contact tracing."
Hensley, who is certified by the Board of Infection Control and Epidemiology, is dedicated to insuring that all ARH hospitals have the best processes in place for infection prevention and control.