2020 Annual ARH CARES Award Winners Honored

Each year Appalachian Regional Healthcare honors exceptional employees from across its Kentucky and West Virginia system who are named as their respective hospital's annual ARH CARES Award winners. However, 2020 was unlike any year we have ever experienced and every employee went above and beyond to care for our patients and communities.
"As we faced the challenges brought on by COVID-19, every employee worked hard, stepped out of their comfort zones and made sure ARH moved forward and our patients safely received the care they needed," said ARH President and CEO Joe Grossman. "Through it all, everyone banded together in a unique way that only members of our ARH team can when our health system faces adversity."
During a live virtual ARH Annual CARES Award Watch Party on Friday, February 19, Grossman shared that each ARH employee is essential to the success of the Healthcare system of Appalachia.
"We are very proud of each ARH employee's dedication to our patients and communities," noted Grossman. "Know that each of you are essential to the success of our health system. You have been there for your hospitals, your communities and most importantly, you have been there for each other. That is why, in appreciation for all of your efforts during 2020, I am pleased to announce today that this year EVERY ARH employee will be named a 2020 ARH Annual CARES Award Winner."
The ARH CARES Award is for employees who have proven their dedication and commitment to exceeding the ARH CARES Standards (Communication, Attentive, Respectful, Environment and Special) in their local communities.
Each ARH hospital will display in their lobby a special recognition plaque and poster that features the names of every ARH employee. Also, all ARH employees will be receiving a special T-shirt with the word "Essential" on the front along with a cash bonus.
"We hope you will wear this T-shirt with pride and know that we are proud to have you as a member of the ARH family," added Grossman. "My sincerest congratulations to each of you for being named ARH Annual CARES Award winners for 2020.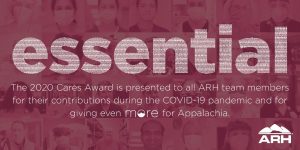 2020 ARH Annual CARES Award winners' "Essential" T-shirt design. These T-shirts were distributed to all ARH employees in honor of this special recognition.