Appalachian Regional Healthcare Congratulates its 2020 Leadership Academy Graduates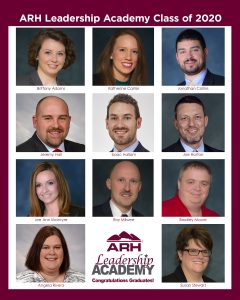 Appalachian Regional Healthcare (ARH) congratulates its 2020 Leadership Academy graduates for their accomplishments. Eleven ARH staff from across the ARH healthcare system, recently completed an intense, 12-month program that develops the abilities of emerging leaders.
Over the course of the ARH Leadership Academy, different leadership models were explored, and participants became familiar on how to leverage their unique strengths within each model. The areas of focus are designed to help each individual address issues or situations in their own area while providing a broader perspective on the concerns of the larger organization.
Brittany Adams, Manager of Financial Analytics
Katherine Carter, Community CEO, Morgan County ARH Hospital
Jonathan Collins, Director, Contract Review and Development
Jeremy Hall, Community CEO, Tug Valley ARH Regional Medical Center
Isaac Hallam, Director, Corporate Strategy
Joe Horton, Assistant Administrator, Middlesboro ARH Hospital
Lee Ann McIntyre, Service Line/ Marketing Manager
Roy Milwee, System Administrator, Ambulatory Services
Bradley Moore, DO, Chief Medical Information Officer
Angie Rivera, Community CNO, Beckley ARH Hospital
Susan Stewart, System Director, Home Services