As you know, if you read last week's blog, I skipped weigh in last week. I was not in a good headspace and just decided to take the day and that weekend to rest. It really helped. I needed to unplug and get back in touch with my feelings and where I am right now. I needed to give myself some grace and realize that each step is hard. All of this is hard—and it has admittedly taken time for me to realize that.
I let Matt at VFit know I was going to take a couple of weeks off to get some other things in line before I tackle the gym again. It was during this interaction that I realized how much I appreciate Matt. I've met this person once, and he is already someone I trust enough to be honest with. It is obvious to me that he cares about me as a person and that he believes in me. He was not hearing this through a text message, which was my easy way out, and he called me. He talked to me about all the positive changes that I'm making but reminded me that exercise is an element that has to be life long and that the medication and diet changes are good, but my body needs me to exercise. I heard what he was saying, but I'm still putting off starting again for a couple of weeks because I need to get my mind right.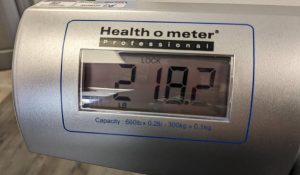 I've struggled with how I view my body for most of my life—I've also been overweight most of my life. I was over 200 pounds on the day I got married for the first time in 1989 and I haven't been under that weight since. I always think others are looking at me and thinking or saying negative things. In my mind I think, "why wouldn't they be, I always am thinking these things about myself?"
So, the gym is extremely difficult for multiple reasons. First there is the issue of figuring out what to wear. It's not because I don't own workout attire, dare I say, I even have tons of cute workout clothes. They are very cute on the hanger, and cute on my body, but they will never be cute when I'm moving around and sweating. When I'm moving around you will see my stomach. You will see all the areas I'm ashamed of. I also hate sweating and breathing heavily while working out. I hate for others to see just how out of shape I am. My inner monologue assures me that the fit beautiful people are all looking at me and saying thank goodness that's not me. I get so distracted by my sweating and breathing heavily and trying to control it that I lose all focus on the actual exercising. This is when I want to quit.
Another thing that I worry about is the age factor. I'm generally the oldest person in the gym. All these young folks working hard and looking good are so intimidating for me. My brain starts swirling with how I should have done this when I was their age, beating myself up for letting myself get to this point, and once again feeling ashamed.
It's time for me to own the shame, work through it, and get over it. I owe it to myself, my body, and my family. Exercise will help to heal the damage I've done to my body over the decades and to feel better about myself. The time for excuses is over. I have to prioritize my health, not my anxiety and negative self-talk. I must live and think differently and the only way to do it, is to just do it.
So, Matt, if you are reading this, then know I am coming back. I appreciate you and hear your genuine concern for me. I know you are on my team and next week, after I acclimate to one of my new meds, I'm back with you. Please don't let me give up and please keep holding me accountable. I'm sure there will be many days I will want to give up. Thank you all for believing in me.
This week I stuck with my diet, took some walks, and even did some exercises at home focusing on my core. I stayed home for the most part this week. Sometimes this is not healthy for me. Other times, like this week, it's time for me to reflect, recharge, and process. It's so important for me to stop and reflect on how I'm feeling, why I'm feeling this way, and then process those feelings so that I can move forward. I've found that while these days can be hard, they are the best days and make me feel the proudest of myself because I'm dealing with my issues, not just keeping so busy that I don't have to think about all my "stuff."
You see for years I've kept moving forward without processing the trauma of living through multiple ongoing devastating experiences. I'm learning to feel again and process. It's hard, but it's worth it.
Now for the best news. I weighed in this week and lost six pounds! I went into Dr. Yost's office as usual for my weigh-in. Dr. Yost came out just to check on me and he was also thrilled. I can tell he's genuinely on my team and going through this journey with me. I can't tell you how good it feels to know that my provider is more than just a doctor, but someone who cares about me and is there for me every step of the way. I think everyone needs a Dr. Yost. I'm so thankful to ARH, the new Lexington clinic, and for each and every person that has been so kind and supportive, including you dear reader.
Thank you for reading, for cheering me on, for caring and for putting up with this long introspective post. I have so much to share and can't wait to write each week, because of all of you. The best thing about this blog has been learning that I am not alone. I am blessed with a community of caring, wonderful people who make this journey so much more meaningful than I ever imagined.
Note: Obtain a medical exam and/or speak with your Physician before beginning any exercise program. This article, previous articles, and/or future articles are not intended to replace the Physician-to-Patient relationship.