ARH Offers Outpatient Bamlanivimab Infusions to Some with COVID-19

With the spread of COVID-19 increasing in our region, Appalachian Regional Healthcare (ARH) offers Bamlanivimab infusions to fight the COVID-19 virus to those who are candidates for the drug.
The U.S. Food and Drug Administration (FDA) issued an Emergency Use Authorization (EUA) to permit the emergency use of the unapproved product Bamlanivimab for the treatment of mild to moderate COVID-19 in adults and pediatric patients (12 years of age and older weighing at least 88 lbs.) with positive results of direct SARS-CoV-2 viral testing, and who are at high risk for progressing to severe COVID-19 and/or hospitalization.
Bamlanivimab is a neutralizing antibody drug. When there is a virus in your body, like COVID-19, your immune system makes antibodies to fight it off.  However, it takes time for your body to make antibodies for a new virus — and in the meantime, you could get very sick.
Bamlanivimab contains man-made antibodies that are similar to the antibodies of patients who recovered from COVID-19.  Scientists think these antibodies may help limit the amount of virus in your body. This could give your body more time to learn how to make its own antibodies. Bamlanivimab does not have any COVID-19 virus in it.
In a clinical trial, scientists found that Bamlanivimab may limit the amount of virus in the body for people with COVID-19 who take the drug within 10 days of symptoms starting. They may also be less likely to need to go to the hospital.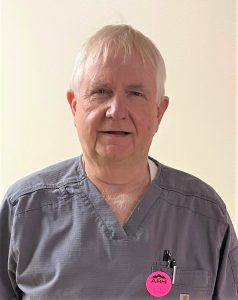 According to James Fredrick, MD, a Bamlanivimab infusion in the Emergency Department at Morgan County ARH Hospital made all the difference in his recovery from COVID-19.
"When I first got sick, I thought it was just a cold, but decided I better get tested for COVID-19. My test came back positive. I was hoping my symptoms would continue to be mild; however, that wasn't the case. My symptoms intensified with severe headaches and then body aches. I lost my sense of taste and smell. In one week, I lost 20 pounds. My son who is also a doctor called me and insisted I go to the Emergency Room to seek treatment. I did and that's when I learned all about the Bamlanivimab treatment. The staff at Morgan County ARH treated me like royalty while I was there and having the one-hour infusion. Afterwards, I felt so much better. In fact, I was able to eat a full meal, which I had not been able to do. By the next day, the headaches and body aches were gone and I was improving rapidly. The Bamlanivimab drug made a huge difference in my recovery and helped my quality of life while I stayed in quarantine for two weeks. I want to thank the healthcare team at Morgan County ARH Hospital for the excellent care I received. You are all super heroes!"
"Dr. Frederick has served this community for many years as a caring and knowledgeable physician," said Katherine Carter, Morgan County ARH Community CEO.  "Morgan County ARH Hospital is so pleased to be equipped with the latest treatments against COVID-19, which allowed him to recover more quickly and return to serving his patients and our community."
For more information about COVID-19 and Bamlanivimab drug infusions, go to https://arhcovid19.com.