First Newborn of 2021 Arrives at Highlands ARH

Highlands ARH Regional Medical Center welcomed its first newborn of the new year born on January 2, 2021.
At 2:35 p.m., Jaxon Tyler Klay Collins was delivered by Dr. Jessica Branham, DO, at Highlands ARH Regional Medical Center.  He weighed 7 pounds and 13 ounces, and was 21 inches long. Parents are Kaetlyn Hall Collins and Justin Collins. The family resides in McDowell, KY.
As the first baby born at Highlands ARH in 2021, the hospital gave Jaxon and his family a large, baby bathtub full of items every baby needs including a baby monitor.   The family also received a nice gift basket donated by The Sinking Fork Baptist Church in Hopkinsville, Ky.
Kaetlyn and family say the care they received from the doctor and nurses was great.  "I was scared, but they made everything so much easier for me and my husband."
Highlands ARH Regional Medical Center offers private labor-delivery-recovery rooms with private baths in a home-like atmosphere where the focus is on a family-centered birthing experience. Once the baby is born, the hospital offers rooming in for parents and baby to enhance newborn teaching with a newborn nursery nurse available and dedicated to this service 24 hours a day.
"Location, comfort and hospitality supported by a team of highly experienced physicians and nurses are important when selecting an environment to give birth," said Michelle Hall, OB Nurse Manager at Highlands ARH.  "You can trust the Highlands ARH OB team to provide compassionate and individualized patient care."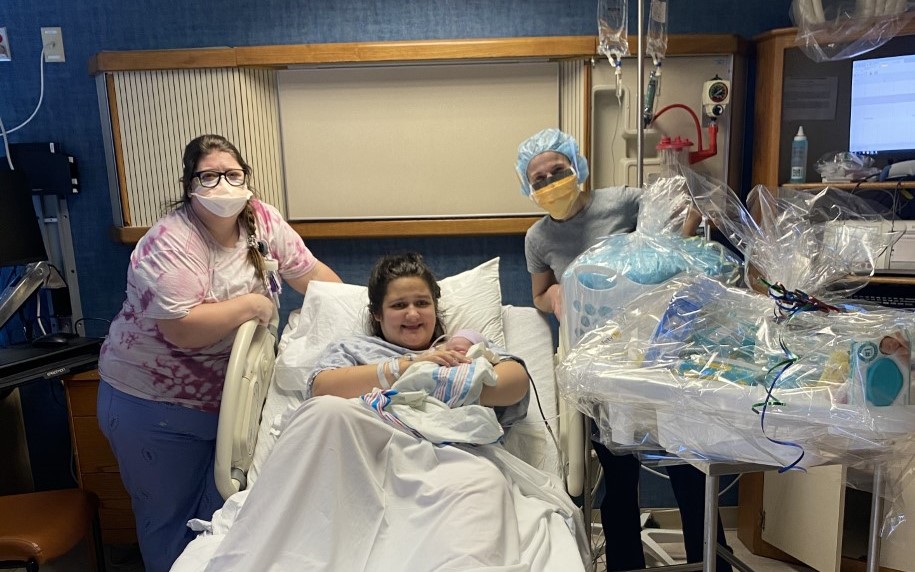 In celebration of the first newborn of 2021, Highlands ARH Regional Medical Center gave baby Jaxon and his parents  Kaetlyn Hall Collins and Justin Collins a large baby bathtub filled with baby gifts, including a baby monitor and a large gift basket filled with many baby items.