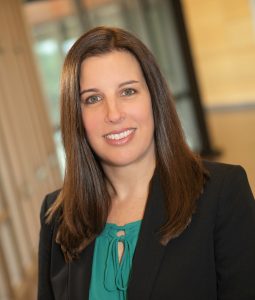 October 08, 2021
Appalachian Regional Healthcare (ARH) announced today it has named Carrie Rudzik, MHA, Vice President of Clinical Operations for the ARH system.
As Vice President of Clinical Operations, Rudzik will be responsible for development and management of the ARH Psychiatric, Laboratory and Physical, Occupational and Speech Rehabilitation service line operations and driving and achieving operational, financial and clinical excellence across the three service lines. She begins the new position Oct. 11.
Rudzik brings extensive experience in hospital administration and healthcare finance to the position. She joins ARH following an 18-year career with UK HealthCare. For the past five years, she has served as Chief Administrative Officer for Eastern State Hospital, an inpatient psychiatric facility in Lexington, KY which UK HealthCare operates under contract with the Kentucky Cabinet for Health and Family Services.
In that role, Rudzik served as the administrative chief within a triad leadership structure (administrative, medical, nursing), responsible for safe and effective patient care, fiscal responsibility, and operational integrity for a 239-bed inpatient psychiatric hospital and a 32-bed personal care home. She oversaw and led a team of administrators and directors responsible for revenue cycle performance, quality and risk management, facility operations, financial reporting and budgeting, community relations, human resources and personal care home administration.
During her time with Eastern State Hospital, Rudzik also served as Director of Business & Administrative Services. UK HealthCare leadership requested Rudzik to serve as the finance representative on the project team tasked with planning operations and opening of the new Eastern State Hospital/ Central Kentucky Recovery Center buildings.
She also served in several other finance positions at UK HealthCare, including Revenue Cycle Project Manager, Sr. Manager, Fiscal Planning & Analysis, Operating Room Finance Manager, and Cost Accounting Coordinator.
"Carrie brings such a broad-level of experience to this position and a strong commitment to safe and effective patient care," said ARH Chief Medical Officer Maria Braman, MD. "We are excited that she is joining ARH and look forward to seeing how she will use her expertise to grow these key service lines that are so important to the residents we serve in eastern Kentucky and southern West Virginia. "
Rudzik earned a Bachelor of Science Degree in Accounting and a Master's Degree in Health Administration from the University of Kentucky.