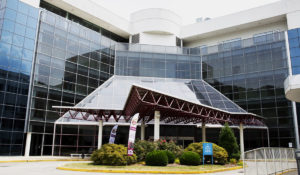 June 7, 2021
Highlands ARH Regional Medical Center recently hosted its first farmers market in partnership with the Floyd County and Johnson County farmers markets.
The kick-off event for the new farmers market at Highlands ARH was held on June 4, and featured produce vendors, baked goods, a food truck, live music, health screening booths and community partner vendors.
"Highlands ARH is bringing fresh fruits and vegetables to our visitors, patients and employees," shared Danielle Harmon, ARH Director of Community Development. "This is another way ARH is supporting the health and well-being of the people in our communities, which in turn supports our local growers."
The Highlands ARH farmers market will take place every other Friday during the summer. ARH hopes to expand kick-off events to feature more farmer's markets in each ARH community.