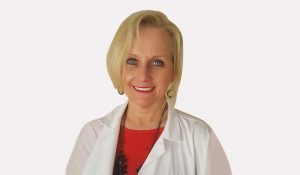 July 16, 2021
ARH Medical Associates Daniel Boone Clinic is pleased to announce the addition of Tammy Walters, APRN, to the providers at the ARH Medical Associates Daniel Boone Clinic in Harlan, Ky.
Walters received a Master's of science in nursing, family psychiatric mental health nursing from Lincoln Memorial University in Harrogate, Tn. and a Bachelor's of science in nursing from Eastern Kentucky University in Richmond, Ky.  Walters is a board-certified advanced practice registered nurse, specializing in psychiatric mental health.
Walters has worked at Harlan ARH Hospital since 2000 and most recently as a psych nurse practitioner in the hospital's Behavioral Health Unit.  In her new clinic role, Walters will provide wellness exams for ages 6 through adult and thorough psychiatric evaluations to assess, diagnose and determine appropriate treatment interventions for patients with possible psychiatric disorders.  These include neurodevelopmental disorders (autism spectrum disorder, ADHD, ADD, schizophrenia spectrum) disruptive, impulse-control and conduct disorders, bipolar and related disorders, depression and anxiety disorders, post-partum depression, stress/trauma related disorders including PTSD, obsessive-compulsive and related disorders, eating disorders and addictive behaviors.
"We are excited to have Tammy join our Harlan ARH clinic team," said Roy Milwee, ARH System Director of Ambulatory Services. "Her expertise in clinical psychology will be an asset to the Harlan community."
Walters is accepting new patients at the ARH Medical Associates Daniel Boone Clinic, 37 Ball Park Road in Harlan. To schedule an appointment, call 606-573-4520 to schedule an appointment. If you cannot come into the clinic, Walters is taking appointments via telehealth.