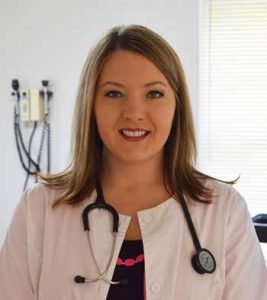 Appalachian Regional Healthcare (ARH) and Barbourville ARH Hospital are pleased to announce the opening of the new ARH Campus Health Center-Union College.
"We are excited to now offer healthcare services at Union College," stated Charles Lovell, Barbourville ARH Community CEO. "Not only is it convenient for students and staff, but also for those community members who live near the college."
According to Lovell, Jamie Wilder, APRN, is the healthcare provider for the ARH Campus Health Center. Wilder received her masters of science in nursing from Frontier Nursing University and is a board-certified advanced practice registered nurse, specializing in family medicine.
Wilder provides acute and chronic care, including annual wellness exams, cold and flu treatment, diabetes management, women's health and school, sports and work physicals for men, women and children of all ages.
The new ARH Campus Health Center-Union College will be open on Tuesdays from 1 p.m. to 4 p.m.; Thursdays 1 p.m. to 4 p.m. and Fridays from 9 a.m. to 12 noon (during the academic school year).
The ARH Campus Health Center-Union College is located at 310 College Street in Barbourville, Ky. To schedule an appointment, call 606-546-1395. Walk-ins are welcome.