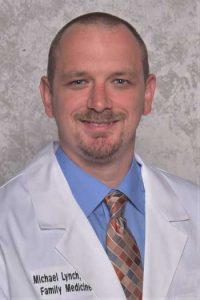 Appalachian Regional Healthcare (ARH) is pleased to welcome Louisville, Ky. Native Michael "Tony" Lynch, III, DO, family medicine, to its medical staff.
Dr. Lynch completed his doctor of osteopathic medicine at the Lincoln Memorial University-DeBusk College of Osteopathic Medicine in Cumberland Gap, Tn. He completed his residency in family medicine at Lake Cumberland Regional Hospital in Somerset, Ky. Dr. Lynch has resided in Pineville, Ky. for over 10 years.
Prior to joining ARH, Dr. Lynch worked for Schumacher Clinical Partners providing emergency medicine for several hospitals throughout our region.
Dr. Lynch provides comprehensive quality healthcare for people of all ages, from newborns to seniors, offering annual wellness exams and school, sports and work physicals, childhood, adolescent and adult immunizations, weight management, cold, flu and sinus treatment, osteoporosis screening and chronic conditions such as high blood pressure, diabetes and arthritis.
As a family physician, Dr. Lynch is trained to provide optimal medical care by looking at the whole person, rather than focusing on just one organ system. In addition to diagnosing and treating acute and chronic illnesses, Dr. Lynch provides routine health screenings and counseling on lifestyle changes in an effort to prevent illnesses before they develop.
"We are very pleased to welcome Dr. Lynch to our medical staff," said Charles Lovell, Barbourville ARH Community CEO. "With roots in the community, Dr. Lynch excels in providing quality healthcare to his patients. We are happy to have him join Team ARH."
Dr. Lynch is accepting new patients at the ARH Cumberland Valley Medical and Surgical Associates clinic. His office is located at 3504 West Cumberland Avenue, Middlesboro. For more information or to schedule an appointment, call 606.248.0737.