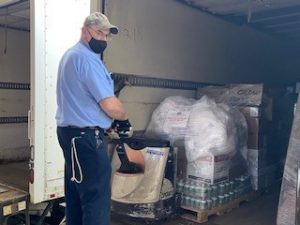 The Appalachian Regional Healthcare (ARH) team is family-driven when it comes to helping families who need assistance, especially those who were impacted by the recent flooding in eastern Kentucky.
"These continue to be unprecedented times with the spread of the COVID-19 virus and recent devastating floods throughout the communities we serve," said Joe Grossman, ARH President and CEO. "We want to help those affected by the flooding by providing some supplies and hot meals for flood victims and volunteers."
This month ARH has been helping some of its own family as well as helping community families impacted by the flooding.
The flooding affected around 40 ARH employees in McDowell, Martin, Hazard, Highlands and Home Health.  ARH staff across the health system have been donating cleaning and first aid supplies, nonperishable foods, bottled water, personal hygiene supplies, toilet paper and socks to ARH families in need. ARH also set up an Employee Assistance Fund to help ARH families impacted by the flooding. Anyone wanting to help these families can go to www.arh.org/donate and make a monetary donation. Please note that you are giving to the Employee Assistance Fund.
ARH also is selling a T-shirt that has "family helping family" on the front. Proceeds from the sale of this T-shirt will go into the Employee Assistance Fund. You can order a T-shirt by going to https://arh-team-shop.myshopify.com/
Hot meals to go were provided by ARH in some of the Kentucky communities that were impacted by the flooding. Flood victims and volunteers were able to drive up and receive a hot meal to go from several ARH staff who were happy to help. Several flood victims were staying in a hotel in Floyd County and ARH provided them with a hot meal.
"It's all about family helping family," stated Grossman. "For 65 years now, Appalachian Regional Healthcare has been caring for the health and well-being of families in Central Appalachia. We are honored to be your healthcare provider—the largest provider of healthcare and single largest employer in southeastern Kentucky."
Photo Cutline: ARH staff (from left to right) Tiffany Herald, Lenae Stacy, Mary Bach, Mike Herald, Lee Ann McIntyre, Sonya Bergman, Allison Baker, Brittany Adams and Dylon Baker shared hot meals to go with flood victims and volunteers in Jackson, Ky.