Full-Time Infectious Disease Specialist at Beckley ARH Hospital
Beckley ARH Hospital is pleased to announce that Zonaira Gul, MD, who specializes in infectious disease, is now working full-time at the ARH Southern West Virginia Clinic.
"Dr. Gul is a well-known specialist in infectious disease in our region, and we are excited that she has chosen to work with Beckley ARH full-time," said Rocco Massey, Beckley ARH Community Chief Executive Officer.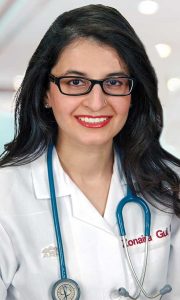 Dr. Gul is board certified in infectious disease, internal medicine and geriatrics. She completed fellowships in infectious disease and geriatrics at New Jersey School of Medicine in Rutgers, NJ.
As an infectious disease specialist, Dr. Gul diagnoses and treats pneumonia, urinary tract infections, bone and joint infections, diabetic foot infections, skin and wound infections, Lyme disease, tuberculosis, HIV infection, Hepatitis C infection and COVID-19 infection.
"Dr. Gul is dedicated to treating patients who are fighting serious infections," shared Massey. "She follows CDC guidelines in all patient treatment plans, and is an expert educator on infectious diseases such as HIV and Hepatitis B and C."
According to Dr. Gul, who keeps up-to-date on the most recent statistics on infectious diseases in rural West Virginia, in 2016, the CDC identified 28 counties in West Virginia at high risk of an HIV outbreak. Those counties included Boone, Kanawha, Logan, McDowell, Mercer, Mingo, Raleigh and Wyoming.  In 2016, 60 new cases were reported statewide.  "The CDC recommends routine HIV testing for ages 13 through 64," said Dr. Gul.
Regarding viral hepatitis, Dr. Gul shared: "Millions of Americans are living with Hepatitis B and C, and most don't even know they have the virus. Three-quarters of the people living with hepatitis C infection are baby boomers born between 1945 and 1965. If you haven't been tested, I strongly encourage you to do so."
Dr. Gul is accepting new patients at the ARH Southern West Virginia Clinic, located at 250 Stanford Road in Beckley.  Ask your primary care provider for a referral to Dr. Gul. To schedule an appointment, call 304.254.2620.