Over 1,000 masks and counting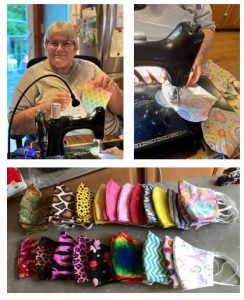 From Washington to New York to Florida and many states in between, West Liberty, Ky. Native and ARH Retiree Jane Murray is donating her mask creations to people across America.
"I have always enjoyed serving others, sewing and making new friends," states Murray. "Once I retired I had plenty of time to sew. When the pandemic began, I started creating masks and posted photos of them on social media. When friends said they needed a mask, I would send them one (free of charge). The local mayor called and asked for masks for the firemen and first responders. From then on, the requests started pouring in from local parents, teachers, healthcare workers and even folks on social media who live as far away as Washington state, New York and Florida."
Murray retired last year after a 42-year nursing career at her hometown hospital—Morgan County ARH Hospital.
"For most of my life, I have had the privilege of serving others," shares Murray. "I will never forget my first day working the ER at Morgan County ARH Hospital. A young pregnant woman came through the door in labor, and I helped the doctor deliver her baby. It was so exciting to begin my nursing career by helping bring a new life into the world."
Murray's parents, Dr. and Mrs. Hershell B. Murray, worked in the medical field and she admired their dedication and service to others, which led her to pursue a nursing degree at Eastern Kentucky University in Richmond.
"My father was a doctor and my mother was a nurse, so they taught me at a young age the importance of good health and helping others stay healthy," says Murray.
According to Murray, that is why she has made over 1,000 masks on her mother's 1954 Featherweight sewing machine.
"Though I am retired from nursing, I still have a passion to help others stay healthy," explains Murray. "That's why I am making all kinds of masks and donating them, and I will keep making masks for as long as the pandemic exists."
Photo cutline 1: ARH Retiree Jane Murray seated at her mother's 1954 Featherweight sewing machine.
Photo cutline 2: ARH Retiree Jane Murray sewing a mask that she plans to donate.
Photo cutline 3: Colorful masks created by ARH Retiree Jane Murray.