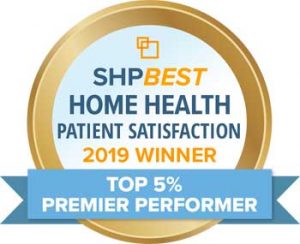 Middlesboro and Morgan County ARH Home Health agencies have been recognized by Strategic Healthcare Programs (SHP) as a "Premier Performer" for achieving an overall patient satisfaction score that ranked in the top 5% of all eligible SHP clients for the 2019 calendar year.
The annual SHPBest™ award program was created to acknowledge home health agencies that consistently provide high quality service to their patients. The 2019 award recipients were determined by reviewing and ranking the overall satisfaction score for more than 3,000 home health providers. With the largest HHCAHPS benchmark in the nation, SHP is in a unique position to identify and recognize organizations that have made patient satisfaction a priority and have been rewarded for their efforts with high marks on the HHCAHPS survey.
"SHP is proud to present the SHPBest awards to our top-performing customers. We commend Middlesboro and Morgan County ARH Home Health for their continuous focus on delivering the highest quality of care to their patients," said Rob Paulsson, President of SHP.
Being recognized as a premier performer in patient satisfaction is a huge honor for our Middlesboro and Morgan County ARH Home Health teams," said Susan Stewart, ARH system director of Home Health. "I am very proud of each member of these teams and the quality care they give home health patients daily. They show such compassion, in fact, they consistently treat their patients like family, and that makes all the difference."
Read more about the SHPBest awards program, including methodology and award recipient lists at https://www.shpdata.com/home-health/shpbest-hhcahps.
About ARH Home Health Services
ARH Home Health specializes in helping clients make the transition from hospital, rehabilitation or skilled nursing homes to home care. In addition, primary providers can refer clients to home health services. Our team of highly skilled home health professionals is always available to answer your medical needs in the privacy of your home. Whether it is skilled nursing, therapy services, or medical social services, ARH has the experience, knowledge, and compassion to help you gain the most from your home health experience.
About Strategic Healthcare Programs (SHP)
Strategic Healthcare Programs (SHP) is a leader in data analytics and benchmarking that drive daily clinical and operational decisions. Our solutions bring real-time data to post-acute providers, hospitals, physician groups and ACOs to better coordinate quality care and improve patient outcomes. In business since 1996, SHP has built deep expertise and a strong reputation to help organizations nationwide raise the bar for patient care.