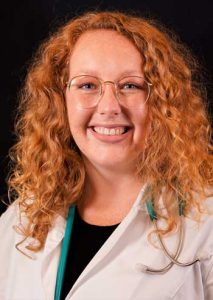 Middlesboro ARH Hospital is pleased to announce that Blakelee Brock Barnett, APRN, CNM, FNP–C has joined OB-GYN Specialist John Williamson, MD and Rebecca Akers, APRN, FNP – BC in practice at the Women's and Family Health Center in downtown Middlesboro.
Barnett is a graduate of Middlesboro High School and completed her Bachelor of Science degree in Nursing from Lincoln Memorial University in Cumberland Gap, Tn. She has worked as a registered nurse and clinical nurse manager at Middlesboro ARH on the Women's Health and Obstetrical Unit for the past five years. During that time, she completed her Family Nurse Practitioner degree from South University in Savannah, Ga. and her Certified Nurse Midwifery Degree from Frontier Nursing University in Hyden, Ky.
"The word midwife means 'with woman,' and being able to serve the women in this community where I was raised is important to me," shared Barnett. "So many local women have impacted my life in many different ways, and now I have the opportunity to give back to them."
Barnett will provide women with these services: annual gynecological exams, family planning and preconception care, prenatal care, labor support and delivery of newborns.
"We're excited to transition Blakelee to her new role as a nurse midwife," stated Michael Slusher, Community Chief Executive Officer at Middlesboro ARH. "It's important to offer women the choice of a female obstetrics provider to support them and their babies during labor and birth."
To schedule an appointment with Barnett, please call the Women's and Family Health Center at 606.248.3015. Her office is located at 2004 West Cumberland Avenue in the Medical Apex Building, downtown Middlesboro.