New Pulmonologist Joins Highlands ARH
Highlands ARH Regional Medical Center welcomes Pulmonologist Imtiaz Hussain, MD, to its medical staff.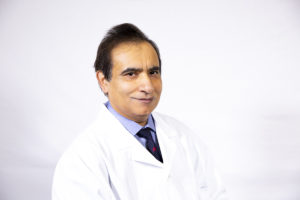 Dr. Hussain is board certified in internal medicine and pulmonary disease, and has over 30 years of experience in pulmonology. He completed his fellowship in Pulmonology and Critical Care Medicine at the University of Kentucky in Lexington, Ky. He received a medical degree at Rawalpindi Medical School at Punjab University in Lahore, Pakistan.
Dr. Hussain, who also has a practice at Tug Valley ARH Regional Medical Center, specializes in the diagnosis and treatment of lung conditions and diseases of the chest, particularly pneumonia, asthma, tuberculosis, emphysema, and complicated chest infections. He provides critical care in the hospital ICU.
"We are pleased to welcome Dr. Imtiaz to the Highlands ARH Regional Medical Center Staff. He is very well trained and experienced in caring for black lung and COPD patients. He knows the ARH System well and has a passion for caring for our loved ones," said Tim Hatfield, Highlands ARH Community CEO.
Dr. Hussain is accepting new patients at ARH Medical and Surgical Associates-Highlands, located 5000 Route 321, Suite 4139 in Prestonsburg, Ky. For more information or to schedule an appointment in-person, virtual or curbside, call 606-886-3894.