Be Safe While Shopping on Black Friday
With the exponential increase of COVID-19 cases across the entire nation, the Centers for Disease Control and Prevention (CDC) asks Americans to shop online this year.
However, if you decide not to adhere to this CDC recommendation, the CDC offers tips to help make your shopping experience safer.
Protect Yourself While Shopping
Stay home if sick
Wear a mask
Go during hours when fewer people will be there
If you are at higher risk for severe illness, find out if the store has special hours
Bring clean reusable shopping bags, where allowed
Disinfect the shopping cart
Do not touch your eyes, nose, or mouth with unwashed hands.
Stay at least 6 feet away from others
Use marked entry or exit points and follow any directional signs or floor markings
Only touch products that you plan to purchase
Consider not consuming any sample foods or purchase food or drink items from self-service stations.
Use touchless payment (pay without touching money, a card, or a keypad).
Before entering and after exiting the store, use a hand sanitizer that contains at least 60% alcohol.
Wash your hands with soap and water for at least 20 seconds when you get home.
Traveling to Shops or Bank
Use disinfecting wipes on handles and buttons at gas stations before you touch them (if available). After fueling, use a hand sanitizer with at least 60% alcohol. Wash your hands for at least 20 seconds when you get home or somewhere with soap and water.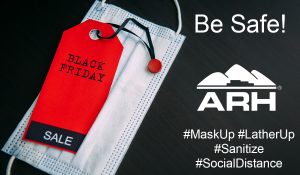 Use drive-thru banking services, automated teller machines (ATM), or mobile banking apps for routine transactions that do not require face-to-face assistance as much as possible. Use hand sanitizer containing at least 60% alcohol after any deposit, withdrawal, exchange, drive-thru visit or use of an ATM.
Keep in mind that many Black Friday sales are available online. Staying at home and shopping online is the safest way to experience Black Friday.