Urologist Joins Hazard ARH Medical Staff
Hazard ARH Regional Medical Center and ARH Urology are pleased to have Niall Harty, MD join its medical staff.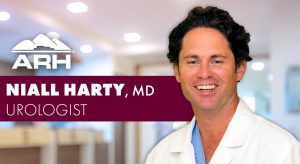 Dr. Harty completed a fellowship in robotic surgery and urologic oncology at the City of Hope Medical Center in Duarte, Ca. He completed his residency in urology at Lahey Clinic in Burlington, Maine, and his medical degree at the University of Louisville—School of Medicine in Louisville, Ky.
Dr. Harty is a board certified urologist who specializes in diseases of the urinary tract and the male reproductive system. Patients may be referred to a urologist if their physician suspects they may need treatment for a condition relating to bladder, urethra, ureters, kidneys and adrenal glands.
Dr. Harty is trained in the surgical and medical treatment of diseases that affect these organs and conducts procedures including cystoscopy, ureteroscopy, lithotripsy, orchiopexy, penile plication and prostate procedures.
"We are pleased to have Dr. Harty at Hazard ARH," said Dan Stone, Hazard ARH Community CEO. "Hazard ARH is pleased to offer high-quality healthcare services by exceptional providers such as Dr. Harty.  His expertise and compassionate care is a great benefit to the people of central Appalachia."
Dr. Harty's office is located on the first floor of the Medical Office Building at Hazard ARH Regional Medical Center at 200 Medical Center Drive Suite 1-A. He is seeing patients and accepting consultations.  For an appointment, call 855-274-2273 or 606-487-6200.