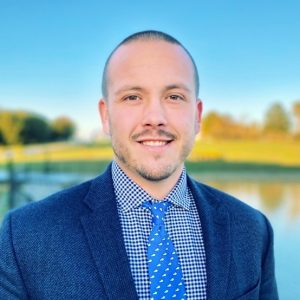 September 29, 2021
Maggard promoted to Assistant Vice President of Human Resources
Appalachian Regional Healthcare (ARH) recently announced the promotion of Austin Maggard, SHRM-CP, ARH Assistant Vice President of Human Resources, where he will continue to provide proven leadership for the health system's wide range of outpatient services across eastern Kentucky and southern West Virginia.
Maggard has been with ARH since January 2020 and brings several years of Human Resource experience in both the business and healthcare industries.  He achieved his Bachelor of Science in Human Resource Leadership from Sullivan University in 2016 and then his Master of Science in Human Resource Leadership in 2017; and, and holds certifications in The Predictive Index and Society for Human Resource Management.
"During his time with ARH, Austin has been an invaluable team player," said Sonya Bergman, ARH Vice President of Human Resources. "He has successfully negotiated three bargaining agreements and has been at the forefront in implementing HR practices to help lead our community HR departments and our organization to the next level."
As Maggard moves forward in his new position, he will continue in system HR as well as with the community-based HR offices.
"I am committed to ARH's mission and its growth as an organization. It is an exciting time to be a part of the premier healthcare system of Appalachia and I am humbled by the opportunity to continue to provide the best service I can for our workforce so they can provide the best care that they can for our communities," said Maggard.