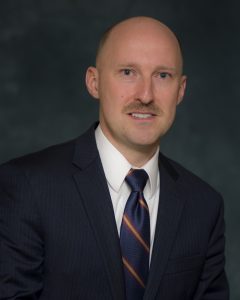 August 30, 2021
Appalachian Regional Healthcare (ARH) announced today the appointment of Roy Milwee to the position of ARH Vice President of Ambulatory Services, where he will provide leadership for the health system's wide range of outpatient services across eastern Kentucky and southern West Virginia.
Milwee has been a leader in ambulatory services for ARH since June 2016, first as a system administrator responsible for leading 80-plus clinic operations throughout and mostly recently, serving as the Chief Executive Officer of Ambulatory Services.
"A major part of ARH's commitment to our communities is to provide locally accessible options for a wide-range of healthcare services. This not only includes the advanced medical services or emergency care we provide in our hospitals, but the equally important ambulatory care provided at our clinic locations and provider offices. These services assist our patients in being proactive in managing their chronic health conditions to help prevent serious illnesses and improve their overall health," said ARH President and CEO Hollie Harris Phillips. "For the past nine years Roy has played a major role in the creation and implementation of these services throughout our ARH service area. I appreciate his expertise in managing ambulatory services combined with his strong commitment to improving the health of our communities and am excited for the future of ambulatory care at ARH under his direction."
In his new role, Milwee will provide strategic leadership for clinical operations and will establish and maintain an effective overall organization of outpatient services. He also will direct in conjunction with the department managers and department administrators, the selection, employment, compensation and evaluation of employees within the ambulatory operations. Milwee also is responsible for the effective development of outpatient facility resources.
Milwee began his career with ARH in 2009 as a Community Based Planner where he coordinated and developed strategic plans for many ARH services and later served as Assistant Administrator for Mary Breckinridge ARH Hospital, assisting with the transition of the hospital into the ARH healthcare system, before moving his focus to ambulatory services. He received a Bachelor of Science in business administration from Union College in Barbourville, Ky. and completed his Master of Business Administration in healthcare management from the University of Phoenix.
"I am humbled and honored to be a part of a mission-driven organization like ARH," said Milwee. "Being a native of Eastern Kentucky, I take great pride in helping improve access to high quality care for our communities.  I am thankful for this opportunity and look forward to further serving the people in Eastern Kentucky and Southern West Virginia."