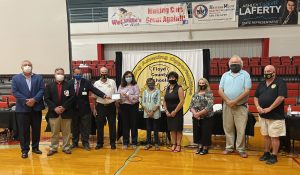 August 30, 2021
The Floyd County Board of Education recognized three Appalachian Regional Healthcare (ARH) hospitals—ARH Lady of Our Way, Highlands ARH Regional Medical Center and McDowell ARH with the Community Champion Award for its new Telehealth Clinic during a recent board meeting.
The Floyd County Schools "Community Champion" award recognizes community partners that support the educational, recreational and health goals set for Floyd County students.
"We cannot say enough about how our three Floyd County ARH hospitals have championed our school district except to say they are a blessing," stated Anna Shepherd, Floyd County Schools Superintendent.
For the 2021-2022 school year, the three Floyd County ARH hospitals will provide a Telehealth Clinic, as part of the ARH ConnectedCare School Program.  The clinic is for students, faculty and staff of John M. Stumbo Elementary, May Valley Elementary, Adams Middle School, Betsy Layne High School, Prestonsburg High School and Renaissance Learning Center. Through this new Telehealth Clinic, patients will be provided care byARH healthcare providers without having to leave the school. Using specialized audio and visual equipment, which is a portable, hand-held examination kit, HIPAA compliant app and telehealth platform, school patients can be connected to ARH healthcare providers remotely.
Some health conditions that can be treated via the Telehealth Clinic include:
Cough and/or cold
Fever
Earache
Sore throat
Rash/Skin irritations
Pink eye
Allergies
"ARH is happy to partner with the Floyd County School District to make sure their students receive the best healthcare possible. By providing health services at school, we hope to keep students and staff safer by identifying contagious and non-contagious students more quickly, get all patients the care they need and improve attendance and learning outcomes," said Nicole Winkleman, ARH Telehealth Director.
ARH continues to partner with Floyd County Schools in other ways such as providing COVID vaccines at school events for ages 12 and up; concussion education sessions to all middle and high school coaches in Floyd County, stressing the importance of seeking medical attention for students, when to return to play and what to expect during recovery and a financial donation of $20K to purchase the new scoreboard for Prestonsburg High School.
"Throughout this school year, ARH hopes to provide mentorship opportunities to students, scrubs camps, ARH bowl games, health fairs at school events, additional sponsorships, health education and support for teachers at every possible opportunity," shared Tim Hatfield, Community CEO at Highlands ARH.
Photo: ARH hospitals receive Floyd County Schools Community Champion award for its new Telehealth Clinic. Pictured from left to right: Dr. Anthony Stumbo, Community Chief Medical Officer, Russ Barker, McDowell ARH Community CEO, Tim Hatfield, Highlands ARH Community CEO, Board Vice Chair William Newsome, Kathy Stumbo, ARH Our Lady of the Way Community CEO, Dr. Chandra Varia, Board member, Anna Shepherd, Superintendent, Board Chair Linda Gearheart, Keith Smallwood, Board member, Steve Slone, Board member.