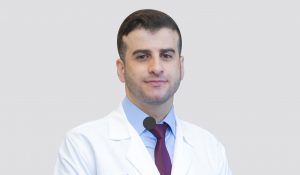 September 8, 2021
Highlands ARH Regional Medical Center welcomes Pulmonologist Moath Nassar, MD, to its medical staff.
Dr. Nassar is board certified in internal medicine and pulmonary disease. He completed a fellowship in pulmonology and critical care medicine at Wayne State University in Detroit, Michigan and an internal medicine residency at John H. Stoger Jr. Hospital of Cook County in Chicago, IL.
Prior to joining Highlands ARH, Dr. Nassar was a pulmonary and critical care fellow at Wayne State University in Detroit where he worked with both inpatients and outpatients in managing multiple complex critical diseases. He also developed further proficiency in various critical care procedures, mechanical ventilation management, bronchoscopies and endobronchial ultrasound (a procedure that can help in diagnosis and staging of lung cancer.
Dr. Nassar diagnoses and treats ailments of the lungs and respiratory system, such as asthma and pneumonia as well as chronic obstructive pulmonary diseases including emphysema and lung nodules.
"We are pleased to welcome Dr. Nassar to our medical staff," said Tim Hatfield, Highlands ARH Community CEO. "Highlands ARH offers high-quality healthcare services by exceptional providers such as Dr. Nassar and we are happy to have him join our team."
Dr. Nassar is accepting new patients at ARH Pulmonology Associates – Highlands. His office is located at 5000 KY Rt. 321 Suite 4139 in Prestonsburg, Ky. For more information or to schedule an appointment, call 606-886-3894.