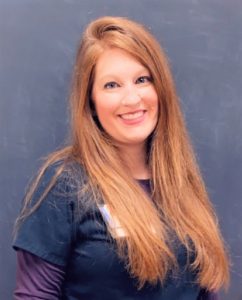 Norton Healthcare/UK HealthCare – Stroke Care Network has honored Sonya Rene Hurt, DPT, as a "Stroke Star" for her dedication and support of stroke patients.
The mission of the Stroke Star program is to provide an opportunity to recognize the important work that is being done to continuously improve stroke prevention and care in our region. Stroke Star recipients go above and beyond to promote the prevention of this horrible disease, provide compassionate care, and/or build, grow and maintain stroke systems of care.
Hurt has worked as a physical therapist for the past 10 years at Hazard ARH Regional Medical Center in both the acute care and the acute rehab service areas. She also serves as voluntary faculty for the University of Kentucky Physical Therapy Doctoral Program as well as the HCTC Physical Therapy Assistant Program.
"Sonya Hurt was chosen as a Stroke Star because she consistently demonstrates her compassion and dedication to stroke patients," said Harold Brown, BSN RN and member of the Stroke Care Network team.
"Sonya goes above and beyond for her patients every day," stated Kathy Sloan, Director of Rehabilitation Services at Hazard ARH.
"Hurt is a strong supporter of local Stroke Survivor and Caregiver Support group," shared Misty Lewis, Stroke Program Coordinator at Hazard ARH.  She also volunteers at Stroke Camp, hosted by UK Healthcare, and works with the CARAT program to assist patients with any needed medical supplies."
Hurt is a 2009 graduate of the East Tennessee State University Physical Therapy Doctoral Program. She is an avid runner and enjoys nothing more than spending time with her family. Hurt resides in Hazard, Ky. with her husband Josh and children, Kate (2) and Jack (1).
There are 36 affiliate hospitals in the Stroke Care Network. Nominees for the Stroke Star awards are reviewed and voted on by the members of the Stroke Care Network team on a quarterly basis.